Top Kitchen Remodeling Trends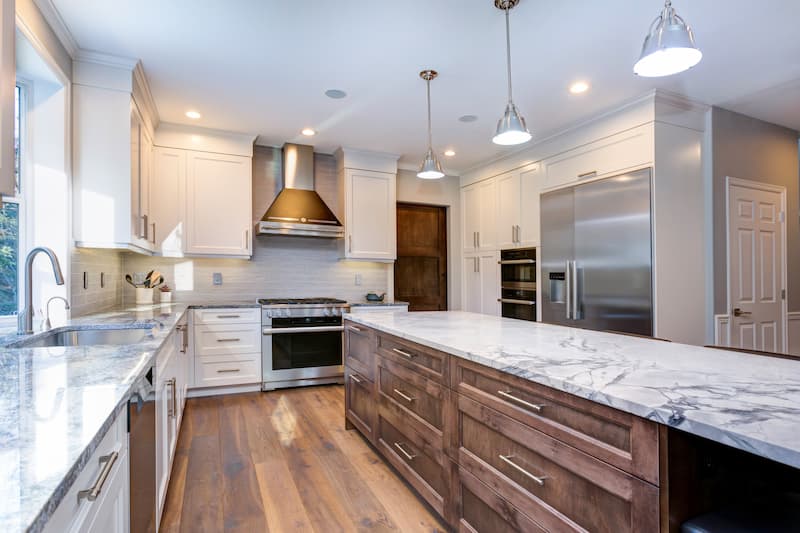 Kitchen remodeling has always been a popular method of upgrading one's home, and a method that you can almost guarantee will help boost its value. Choosing the right upgrades or what direction to take your remodel can be an overwhelming process, especially if you are not familiar with what is already out there. Keeping track of all the latest kitchen trends is difficult, which is why a professional kitchen designer can go a long way to making the process move along more easily.
When you're determining what to go with for your kitchen improvements, take into consideration your needs, family size, and the amount of available space that you have. You do not want to make changes that will overly cramp or restrict movement in your kitchen, but instead should look for ways to further open and make more efficient use of that space; the more functional a kitchen is, the more that you will enjoy it in the long run.
With all of this in mind, here are a few popular trends in kitchen remodeling that might get those creative juices flowing, and give you some ideas for how you can improve your own kitchen!
Going Green: Reducing your carbon footprint with kitchen furnishings that are built from renewable resources is a direction that many homeowners are taking. This environmentally sound method of home improvement has created a popular shift to using sustainable tabletops build from bamboo. These butcher block style surfaces can be adapted for your countertops or tables, and are 100% environmentally safe as well as attractive.
Contemporary Cabinets: Many home owners are moving away from traditional cabinetry and instead transitioning to minimalistic modern designs that use touch-latches and aluminum or bamboo surfaces and glass. These cabinets reduce the need for hardware and are available in a wide variety of design styles.
Efficient Appliances: Time-saving appliances are becoming an increasingly popular addition to many kitchens. These include induction cooktops which heat and cool at a much faster rate, creating safer surfaces without having to wait as long for them to begin their job. A convection oven can also help cook food faster, reducing the amount of time you spend cooking.
Kitchen Lighting: Lighting is an important part of any kitchen, but you don't have to be dull, run of the mill lighting. Instead consider smart lighting options, task lighting, or even cabinet lighting to eliminate shadows and make your kitchen appear warm and inviting.
Walk-In Pantries: If you need more storage space for dry goods, cans, and cooking surplus, you can always install a larger walk-in pantry. A much sought after addition, you will be able to free up cabinet space and enjoy a cleaner more organized kitchen.
High-Tech: Kitchens have recently begun to catch up with technological advances, and electronics are becoming increasingly popular as incorporated features in various appliances. The wireless kitchen is a growing trend, as is the implementation of wall-mounted sound-systems and televisions in kitchens.
Hardwood Flooring: If you want an upgrade to your condition that will always be in style, you should look into replacing your floor with a brand new hardwood one. Hardwood flooring in kitchens can help bring together a design and really make your kitchen pop.
Integrated Appliances: Built-in dishwashers, refrigerators, and other appliances can help to boost the available functional space that you have in your kitchen. These options can help to greatly increase the space in your kitchen which is normally at a premium.
Stainless-Steel: If you want a modern look consider upgrading your surfaces with stainless-steel ones. Stainless steel appliances and surfaces can create an attractive, polished look that has a sophisticated style all its own.
Granite Countertops: This natural material is a traditional option that is still in style, and can add elegance to any kitchen. Granite countertops are heavy however and do require a strong support structure, but they provide a lasting and durable quality that is practically unmatched. Additionally, they are a relatively low-maintenance surface that is especially easy to clean.
To take the greatest advantage of your kitchen's design potential, you should always get the assistance of an experienced design professional. Though there is plenty of research you can do on your own, the experience of a professional will go a long way to making the remodeling process move smoothly, and help you achieve an even better understanding of what it will take to create a fantastic looking and up to date kitchen.
Want To Join Our Featured Contractors?
Fill out Our Online Request Form